A Planned Giving Story: Chris and Lee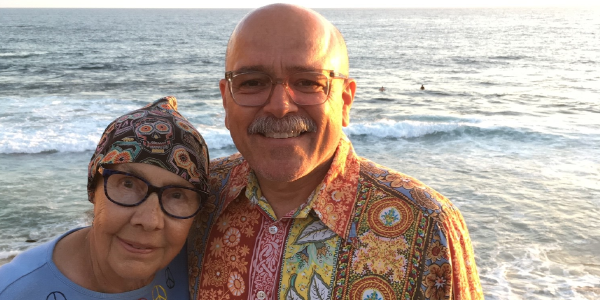 Chris and Lee met 36 years ago in Kailua (Oahu), Hawaii at a time in their lives when Chris was serving in the U.S. Marine Corps and Lee was raising two young children on her own. Over time, their relationship grew, and they learned about their many shared values, including kindness, generosity, compassion, and social justice (just to name a few!).
Their love eventually evolved into a lifetime commitment to each other, marriage, and family. Both Lee and Chris received financial assistance and were recipients of educational scholarships. Chris received his undergraduate studies on a Naval ROTC scholarship. Lee, as a veteran, had assistance on the GI Bill and was particularly fortunate to receive a Native American scholarship from the U.S. government.
Both Chris and Lee have known the life-changing value of higher education and they want to pass this value and opportunity on to others who will benefit. They both believe that education has the power to transform the lives and legacies of individuals, their families, tribes, communities, and even beyond. This is why Lee and Chris have decided to include The American Indian College Fund and the students we serve in their estate plan. In addition to providing financial support for their children and grandchildren to attain their dreams, they have decided to include support for the children and grandchildren of others who may not have been able to provide a similar gift.
If you'd like to learn more about how you can leave a legacy gift, please visit www.collegefundlegacy.org, call 303-430-5326, or email [email protected].